Three Steps to Protect Free Internet in the Czech Republic 2016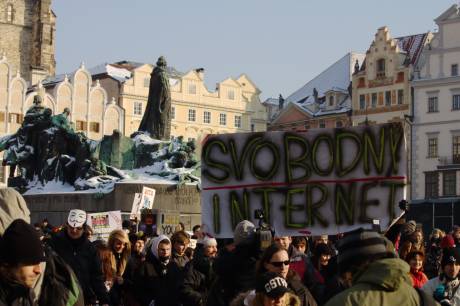 The Internet is no longer a tool only for select few people, an entertaining library of pictures and songs or some kind of electronic supernews. The Internet is an inseparable part of most of our daily lives, therefore it is in the interest of all of us that Internet remains free, uncensored, and respecting privacy in accord with free will of its users – citizens of the Czech Republic.
Our politicians and associated lobbyists are trying to take control of the Internet and thus deny us the freedom and opportunities provided by the Internet. At the same time, politicians and corporations are trying to shift enforcement of state powers and protection of their business interests on providers and operators of Internet services. Their desires and incompetence are infringing the rights of thousands of entrepreneurs in the digital environment.
~~READMORE~~
The "Three Steps to Protect Free Internet in the Czech Republic 2016" manifesto highlights the three most radical (in our opinion) attempts to curtail our digital rights.
If you agree with at least one of the following points, consider joining our call – and spread and share the information:
1. Minister Babiš wants to censor gambling websites which do not have gambling business licence in the Czech Republic. Pirates believe that this opens a Pandora's box of censorship. The bill will initially be abused against gambling websites as an anti-competitive measure, but in the long run it also endangers freedom of the Internet as a whole. We reject the notion that the government should compile a blacklist of blocked websites and we doubly reject its implementation in practice. We refuse to give this kind of power to civil servants because they don't care about Internet freedom in the least. Foreign examples show that once a censorship system has been established, it will keep expanding.
The worst thing about censorship is XXXXXX XXXXXXX! I AGREE
2. Just like we do not wear our names and addresses written on our foreheads when walking on the streets, we must have the right to walk the digital streets anonymously until we choose to identify ourselves. If our speech is not illegal, the government has no right to censor it. Mandatory universal online ID is an unacceptable privacy intrusion. Freedom of speech in the digital world must be guaranteed as well.
1984 is supposed to be a warning, not an instruction manual! I AGREE
3. The Internet is based on information sharing and linking. The act of telling someone where to find certain information must not be grounds for criminal prosecution. Czech Pirate Party is currently facing criminal prosecution for running a non-commercial website with links to movies "sledujuserialy.cz" ("I watch TV series" in Czech) which demonstrates the absurd interpretation of copyright law in the Czech republic.
Linking is not a crime! I AGREE
Come on board! Our goal is to achieve the following three demands:
A) Remove all censorship sections from Lottery Bill and all other laws. Politicians and civil servants must not be allowed to make blacklists of banned websites.
B) End surveillance of Internet users in the Czech Republic and in the rest of EU. We reject plans to ban encryption and any kind of mandatory digital ID card for Internet access.
C) Even European Court of Justice agrees that "Linking is not a crime". We demand the end of prosecutions for linking on the Internet. Police and courts must not take orders from special interest groups who tell them how to interpret and enforce the law.
These demands will be delivered to the Cabinet, Members of Parliament and press at the demonstration for Freedom of Internet, on 20th February 2016, at 14:00 on Klárov (Prague).
Facebook event: https://www.facebook.com/events/1004015302991749/
Contact:
Mikuláš Ferjenčík, mikulas.ferjencik@pirati.cz, Pirate Party PR department, +420 737 943 770
PhDr. Ivan Bartoš, Ph.D., ivan.bartos@pirati.cz, Pirate Party PR department, +420 603 415 378