What is a Member's initiative and how to deal with it?
In the subforum called Členské podněty(Member's initiatives), each member may start an iniciative just by creating a new topic. This guide sumarizes what are the member's initiatives, what and what not to use them for, as well as how members are informed about a member's initiatives.
What's a member's initiative?
Member's initiative can be started by any member who feels that certain resolution should be approved by national forum. If a member gets a support of at least two square roots of a total member's count for his proposal, a national forum's proceeding for the proposal will be called. It's a method especially for significant and long-term changes. Examples are:
proposal of internal rules amendment, especially proposal for charter's amendment

proposal of major policy or ideological document

proposal of extraordinary review of decision of any other organ (needs to get support in 14 days after the decision is of legal power and support must be higher - a fifth of member's count)

nomination to a function elected by the forum

dismissal from a function elected by the forum
This also sets conditions for Member's initiative to be suitable to be started. On the other hand there are situations when national forum's proceeding is not suitable. The examples are:
an issue that can be effectively dissolved by certain body (eg. medial issues, forum settings, international relations); in such case, please use ask an appropriate body

a proposal without resolution text and justification, eg. resulting in plain discussion on the online forum

a proposal for amendment of document which is not under jurisdiction of national forum; in this case it is better to ask national committee

a proposal that orders a party's body something already ordered by either resolution or internal rule

a proposal that is not under national forum's jurisdiction at all or that was already proceeded
How to start a member's initiative?
For every member's initiative start a new topic with a poll question which can be answered either "Yes", "No" or "Abstain". Do not limit the period of the poll, set visibility of result and opt in for vote change. State a question so as it corresponds to the current internal legislation. Examples:
I'm asking for proceeding of national forum and discussing ….. (Fill in the topic: dismissal of the head of international department, lobbing rule proposal, the proposed resolution about current situation in the Czech pirate party, an extraordinary review of national board's decision about a public procurement etc.)

I support nomination of XYZ for the function of the head of international department
How to reach support for a member's initiative
It's any member's issue how to reach support for it's initiative. If you want to support good member's initiatives you can opt to Watch the member's initiatives forum (you'll receive an e-mail notification for every new post in the forum. It's unacceptable to send massive amount of private messages to large groups, spamming on forum etc. in order to reach the necessary support. The core of success is, of course, to claim and justify your demand and soundly answer to critical comments and attempt to include the comments so as to reach the compromise including opponent's criticisms. When member's initiative reaches the support needed for proceeding or submission, the moderator will mark it in the topic and locks it.
Sending member's initiatives
To make it easier to reach a support and to allow every member an actual possibility to enforce proceeding of a good initiative the majority of member's approves, we offer you a support. Administrative department regularly sends an e-mail announcement informing members about new member's initiatives, that reached at least certain minimal ammount of votes (it is to prevent spamming of members) Such announcement includes links to all member's initiatives that reached minimal amount of votes for distribution. Currently this amount is a square root of the amount of members rounded to the closest whole number. When the initiative has more than this number of supporters, the administrative department adds the initiative for announcing. The announcement is send at most once a month.
The list of members is included in the National forum group (amount of members is listed in the bottom right corner). It's important for initiative's author to watch for actual support and informe the administrative department, when the initiative reached necessary amount of votes for distributing or proceeding.
Pro přehlednost shrnuji životní příběh členského podnětu ještě v obrázku: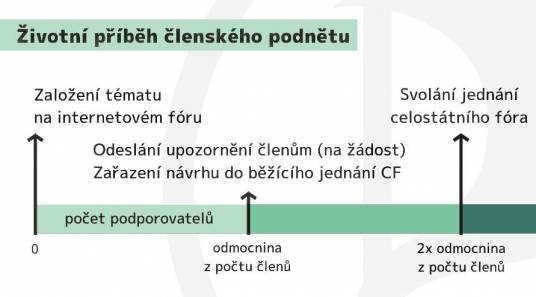 Pokud je členský podnět zjevně neaktuální (např. týká se zasedání, které již proběhlo) nebo pokud o to předkladatel podnětu požádá, moderátoři ho zamykají.