Birgitta Jónsdóttir: Free Internet and Freedom of Press
It is great pleasure for Czech Pirate Party to host a talk of famous Pirate politician, Birgitta Jónsdóttir. Topic of the lecture is "Free Internet and Freedom of Press". It will take place on 24th of January in the Pirate headquarters in Prague, Czech Republic.
Birgitta Jónsdóttir (born 17th April 1967) is a politician (poetician) and an activist member of the Althing, the Icelandic parliament, formerly representing the Citizens' Movement and The Movement, but now representing the Pirate Party. Her district was the Reykjavik Constituency South for the Civic Movement but the South West for the Pirate Party. She was elected to the Icelandic parliament in April 2009 on behalf of a movement aiming for democratic reform beyond party politics of left and right. Birgitta has been an activist and a spokesperson for various groups, such as WikiLeaks, Saving Iceland and Friends of Tibet in Iceland. She also co-founded Icelandic Modern Media Initiative with information activist Smári McCarthy, and currently serves as a chair on the International Modern Media Institute.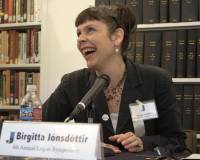 Organisation details
The venue
Estimated begin: 24th January 2015, 02.00 pm
Address: Řehořova 19, 130 00 Praha 3
It's accessible for people with disabilities as well.
A link for streaming will be available here.
Parking: Please, be aware, that only residents are allowed to park in blue zones (see map). Green and orange zones are available for free in the desired time.
Public transport: Within walking distance from Prague's Main train station (Hlavní nádraží) Also, underground line "C" (red) station there.
From main bus station and underound line "B" (yellow) station Florenc, take bus 135 to Náměstí Winstona Churchilla (1 station)
Tram lines 5, 9, 26 to station "Husinecká"
For couchsurfing and accomodation, please use the following pad
If possible, please RSVP via e-mail