Obsah
2013 General Assembly in Pilsen
Basic Information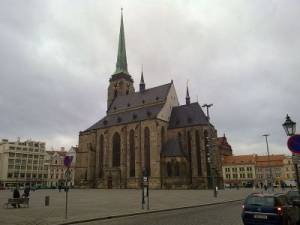 The party chairman called a national Pirate meeting.
Date

Semptember 7, 2013

Time

10:00 till 20:00

Presentation

Starting at 9:00

Place

Schedule

International Contact
Means of Transportation
Car
Just get to the place on

this map

, parking is free of charge in the neighbouring streets.
Train
If you want to go by foot, use

this map

(1.7 km).

If you want to use public transport, just get to the tram number 1 or 4, buy a ticket for 18 Kč in the ticket machine and go in the direction of Lochotín. Leave the tram at station Pod Záhorskem and use

this map

.
Bus
Accommodation
Floorsurfing = free, on the floor, sleeping bag necessary (circa 45 places)

Couchsurfing = free, on some couch (few places) sorry, allready occupied

Hotel

= in Hotel Roudná for 250 CZK per person, double-bedded rooms. Reservations through PP-CZ or individually on

the hotel web page

. If ordering individually, mention you are coming for the Pirate event to get better price.
Lunch menu
(Carnivores - price 95 CZK, Vegetarian, Vegan - price 90 CZK)
Chicken meat with champignons, jasmin rice (C)

Beef goulash with onion and dumplings (C)

Pork schnitzel, boiled potatoes, a pickle (C)

Greek salad with olives and feta, baguette (Vt)

Spanish beans with tomatoes and smoked pepper (V)
Registration form